Adding natural greenery to your home for a fresh holiday look
Lori from Lori May Interiors is here today with a guest post!  She has some great ideas for using fresh greenery in your holiday decor.  Welcome, Lori!
Hi all, I'm so glad to be back with you and Jen here at At Home in the Northwest. I know that many of you are right in the middle of holiday decorating. Today, I thought I would share some ways to add natural greenery to your holiday decor this year.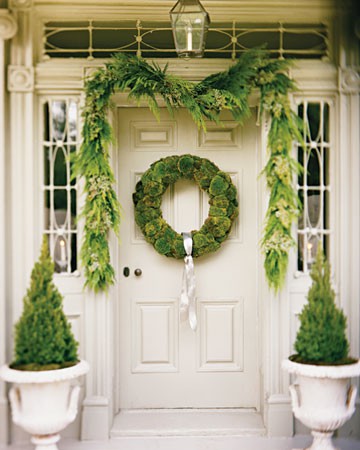 Let's start with the outside of your home. What I really like about this entry is that it doesn't feel holiday specific. You could easily leave this up throughout the winter. If the garland feels to Christmasy, then you could remove that and leave the wreath and planters. The evergreens in the planters can be used year round. Can't you see pansies for the spring and impatiens for the summer around the outside edges of the planters? This a classic simple look that makes the most of the investment you make on the greenery by giving you an extended time to enjoy it!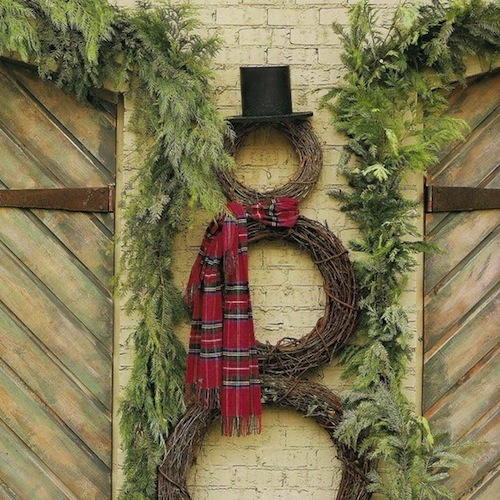 This is a photo I've had on my Winter Pinterest board since last year. I love, love this sweet snowman and even though you can't see the greenery around the garage doors, you get the idea. I love the whimsy of the snowman with the classic greenery.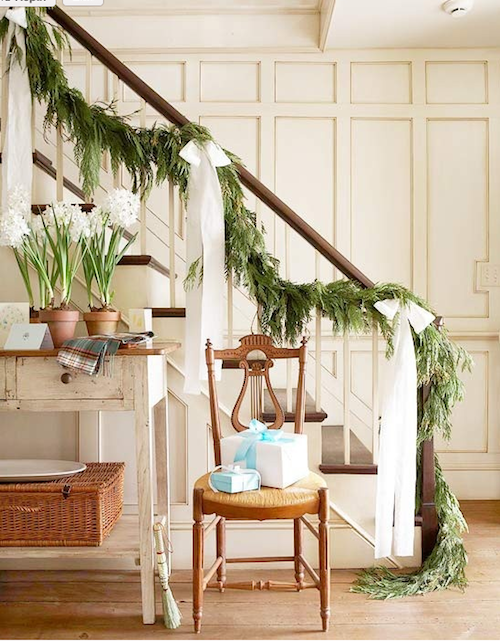 As we enter the house, we come to the staircase. To be honest, I haven't always been too keen on decorating our staircase. Most of the ideas I would see were too "fixed" or perfect for my taste, but this one is perfect in my book. The garland is not perfectly equal and drapes beautifully onto the floor. The ribbons add a laid back softness. You could use any color of ribbon or even cut up strips of burlap to make your own ribbons.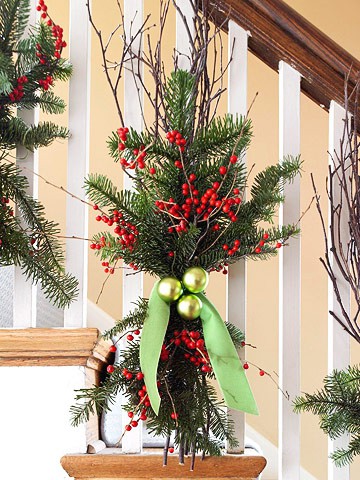 Here's another option for the staircase that I thought was a great idea. You could probably take a nature walk with your dog or your children and collect enough materials to do this one for free. Add some leftover ornaments, ribbon and a bit of florist wire to keep it all together and you've got a wonderfully unique look.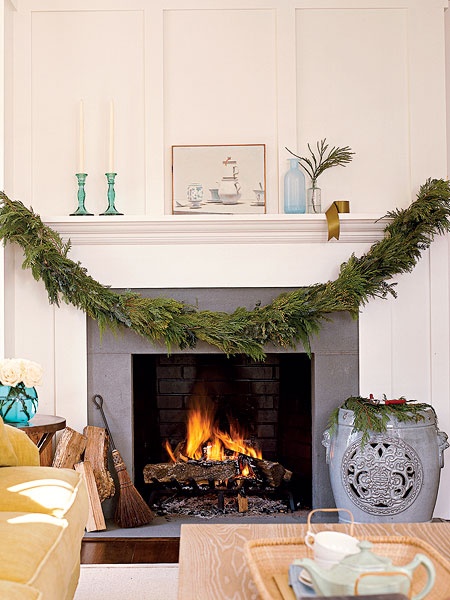 I usually have the same issue with mantles that I do with staircases. I prefer a more laid back effortless look. (You can translate effortless to less work and I'm all about it!) This simple garland adds a fresh festive look to this space without being too overwhelming. I also love the small touches of natural elements on the stool and the top of the mantle. If you wanted to add some sparkle, you could easily add a strand of twinkly lights to the garland.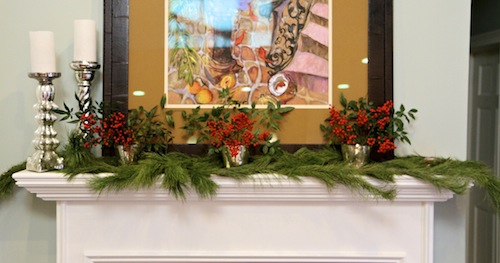 Here's the mantle in our kitchen from last year. I filled mercury glass containers that I already had with nandina berries from our own bushes and added fresh pine garland from Walmart. Total cost under $10. I love how it turned out.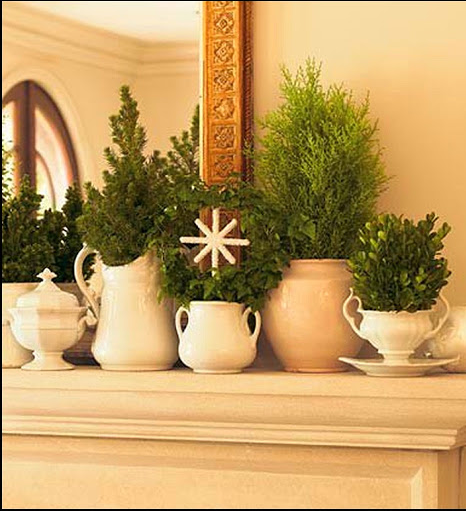 Another idea for your mantle that could take you into the new year. We should all use those beautiful pieces that we have put away in the cabinets. Get them out and put some greenery in them. What a wonderful way to add a fresh holiday look to your home! Once the holidays are over, remove the star and add a heart for Valentine's, a clover for St. Patty's Day and pastel ribbons for spring.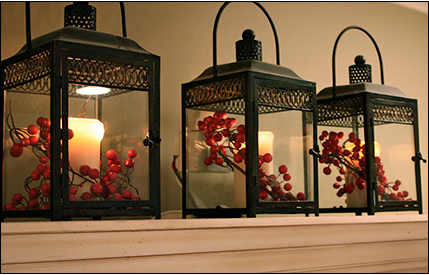 This is a great way to add natural greenery to everyday accessories in your home. I am in the process of designing a half bath for a client and we decided to add a red lantern to the space. Since it's Christmas time, I'm adding a sprig of berries and greenery much like these above to add a festive look to the small space. You might not think about decorating the bathroom, but just this small touch is all that's needed to add that festive touch to accessories that live in that space year round.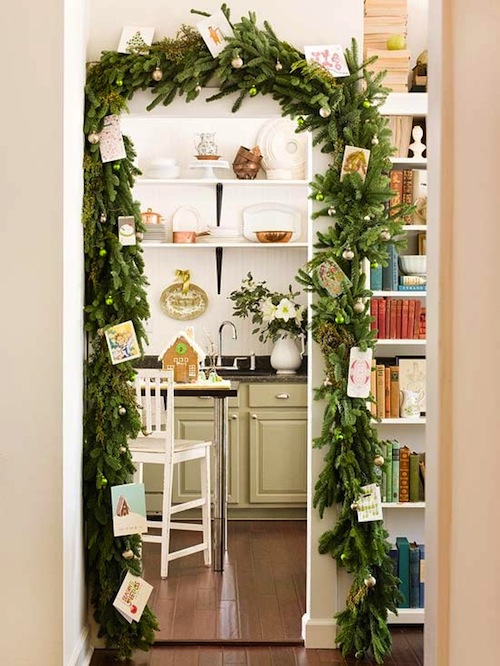 One of my absolute favorite pins of this year. What a great idea to hold all those beautiful holiday cards that we all receive. No reason to let them sit in a pile on the counter. I love that this garland is over the doorway to the kitchen. You can enjoy the amazing smell of the garland while looking at the cards from family and friends each time you pass through.
Here's another great option for the kitchen that I've had in my files for a while. We will be doing something similar to this in our kitchen this year.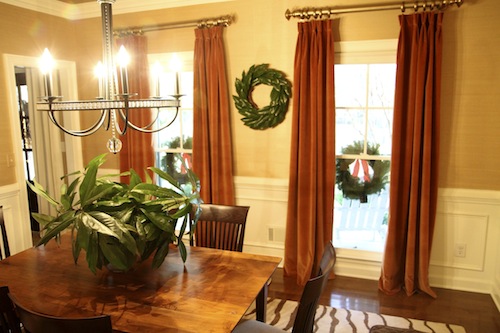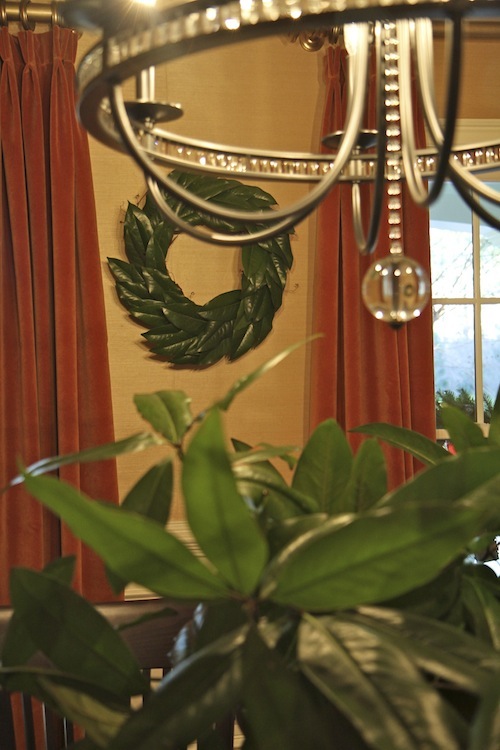 Don't forget about magnolia leaves. If you are blessed to have one of these gorgeous trees in your yard (or your neighbor's yard in my case) take advantage of it! I made this wreath and arrangement last year and it stayed beautiful for weeks.
As you can see, there are many different ways you can add natural greenery to your home for the holidays. Many of these ideas last well beyond December 25th!
Thanks again for having me today Jen! Happy Holidays everyone!!